Thank you to everyone who attended this weekend's Bellydance for Fun event, coordinated with the local UNCC SWE collegiate section.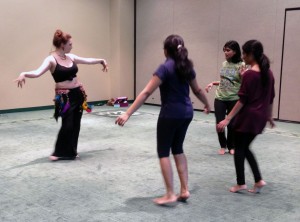 We all know that sitting all day in front of a computer screen or behind a desk can leave us with aches and eye strain. Our Bellydance for Fun event focused on getting up from our desks and moving in creative ways.
The UNCC students learned some new tips for stretching the hands, neck and feet that can be done while still sitting at a desk, and more rigorous stretches for when they are at home. The dance moves were simple and entertaining, and everyone had a great time laughing and learning together.
We all need to learn to take some time for ourselves, to focus on our health and happiness. Whether through dance or some other activity, take the time to schedule an hour, half an hour, or just fifteen minutes to stretch, walk, dance or run. You won't regret it.